Pre-Press Systems G-7 Calibrated For Accurate Color
Pre-press services are equipped advanced Fujifilm Systems and technology, combined with G7 calibrated proofing systems. Epson ink-jet contract color proofing delivers accurate, true color reproduction from proof to press for dependable color approval before the printing process occurs.
Whether you are a magazine publisher, advertising agency or corporate in-house buyer, you are putting your company's reputation on the line every time you print and distribute a brochure, magazine or other printed matter
G7 Master Qualified
G7 provides consistent color proofs that can be matched on press. The G7 Master qualification is the symbol to print buyers and production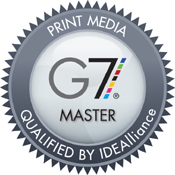 managers that we reliably work with the G7 parameters and achieve more consistent and predictable color on press. G7 qualification provides accuracy of color reproduction throughout the entire production workflow, from supplied customers files, to the final printed product.
We Print SWOP® Specifications
Our press room specification, and our proofs, are to SWOP specifications, using the G7 IDEAlliance calibration method on our proofing system and presses.

Learn About G7 & SWOP


True FTP Transfer Of Files Direct From Our Web Site
Using our web based entry portal for FTP, transferring files is quick & user friendly. Our web based FTP site allows customers to send files using true FTP client soft ware–all from our website. Sending files using our FTP process is fast and simple.
Recommended Files
We accept PDF and native files. It's common for PDF files, when properly set-up, to process well with less issues to address, compared to native files. You can save to PDF from the program you are working with. Common files we receive include:

PDF
QuarkExpress
InDesign

Each manufacturing facility has unique specifications and requirements so it is imperative to adhere to all of our file specifications. Do not assume what is required at other facilities will necessarily work for all of our production needs. Failing to submit files according to these specifications, can result in errors in the finished product.

Get Our File Specifications – Click Here

Submit print files via our ftp site: CLICK HERE TO SEND FILES