Heidelberg-Harris Full Size Heat Set Web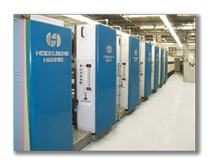 Heidelberg-Harris Heat Set Web
equipment is well known in the printing industry as the leader for high quality printing machinery. Our full size Heidelberg-Harris web equipment is designed for high quality lithograph reproduction.
High speed perfecting units, with multiple signature folding possibilities, pattern, perfing, and sheeting capabilities to handle a diverse product range.

Featured Products: Magazines, Catalogs, Publications & Direct Mail
Our main production format is tailor made for 
magazines, catalogs and publications
. Additionally, our web presses have capabilities to deliver 
direct mail product and brochures
 for the buyer who needs cost effective products that fall outside traditional sheet fed press runs. Publishers seeking both short and long runs, we're set up to accommodate a wide range of products, signature configurations and trim sizes.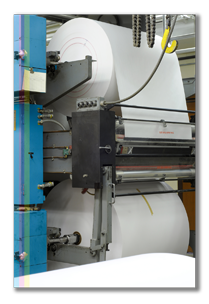 We're in production around-the-clock, employing highly trained printing industry veterans that are customer focused. Our lead press operators have been employed with Interprint for over 30 years! You can rely on the experience of Interprint, with production crews who recognize and understand our customers needs, time after time.
Featured Equipment

Heidelberg-Harris Full Size 16 page Heat Set Web with in-line pattern perfing, folding and sheeting capabilities.
RGS computer registration controls and computerized makeready console for fast makeready times.
Also Available: