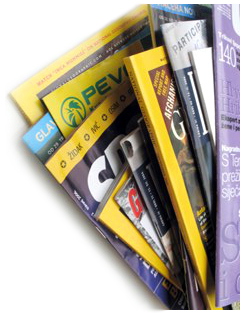 Magazine Printing Capabilities
Our full range of production capabilities are a tailored fit for publishers, corporate buyers and in-house marketing / agency departments. We're in production around-the-clock to meet challenging turn times on time sensitive magazines, catalogs and direct mail.
"Interprint Web Printing has been nationally recognized for quality & consistency, and as a leader in the Printing Industry"
Our three magazine printing facilities feature Heidelberg Harris FULL WEB and HALF WEB heat set web presses, that deliver quality products at incredible speeds. We also feature full size 40-inch 4- and 5-color sheet fed Komori and Man Roland presses, which deliver high-end color reproduction.


Graphic Design Services
Design for Magazines & Catalogs
Our all inclusive services now include design/graphics for magazines and catalogs for total turn-key production, eliminating the need for multiple vendor sources. Our team takes your concept and delivers press ready files that match our printing specs to eliminate timely alterations that can occur from improper file set up. One single source for production – that's Interprint!

In-House Mailing Facility
On site mailing services to offer ease of turn-key production for both local and national USPS mail processing.
With our facilities being strategically located within 10 minutes from one of Florida's largest US Postal Periodical Bulk Mail Centers, printed products flow seamlessly from press, into mail processing on state-of-the-art equipment offering fast delivery on all classes of mail. LEARN MORE ABOUT OUR MAILING – CLICK HERE
Online Magazines & Catalogs
We embrace cross platform media technologies, like our online digital media services we provide. We take the files that were prepared for printing, and convert into an interactive, page turning version of your magazine or catalog, and then upload it to the internet ready for viewing. LEARN MORE ABOUT ONLINE MEDIA – CLICK HERE

G7 Master Printer

Interprint is honored to be part of a select group of printing firms who have committed to the G7 Master Printer process for their color management.
G7 /  IDEAlliance members represent a unique convergence of the leading brand owners, agencies, publishers, printers, materials suppliers and solution providers. IDEAlliance provides a user-driven, cross-industry, and open environment in which its members can strategize, innovate, standardize, and implement solutions to real business challenges in eMedia-based publishing. LEARN MORE ABOUT G7 – CLICK HERE

Our Green Practices
"As a family owned and managed business, we take the responsibility of protecting our environment to heart"
Lesser impact on our environment, that's our pledge to you! We manufacture printing that is made from renewable resources with low environmental impact.
We use SOY based printing inks, Chain-of-Custody Tri-Certified FSC, SFI and PEFC paper, along with ongoing partnerships with leading environmental organizations to ensure conformance to green practices. For the right fit for your Magazine production, contact the Interprint family of professionals today for cost-efficient, quality printed products and mailing services delivered on time and on budget. READ MORE ABOUT GREEN

For additional information on our capabilities: