Harris M-110B  High Speed, Precise Color Reproduction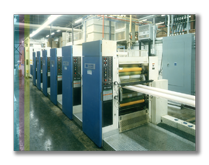 Interprint features the Harris M-110B Heat Set Web for accurate color reproduction. Harris equipment is well known as the standard in commercial quality web offset printing. High speed perfecting units combined with in-line folding to ensure your magazine, catalogs or commercial projects stay on track and deliver on time. Our craftsmen pay meticulous attention to detail and welcome clients press side for final approvals.
Preplan your next insert, brochure, catalog or publication to tailor fit one of our popular paper saving formats.
Featured products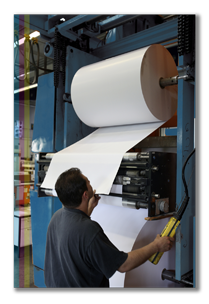 Our half web equipment fits perfectly into our production line up. We utilize the correct "paper grain direction" for 5-1/2 x 8-1/2 PERFECT BOUND products.
If you have ever noticed that hard to open, "crinkled pages" at the bound-spine edge, that's due to binding the product against the paper grain direction.
At Interprint, you will benefit from our wide range of mechanical capabilities we offer in our press line up. We offer half web, full web and sheet fed presses, plus digital – ensuring the correct production method is used, delivering high quality products.
Popular Half Web product sizes for flat sheets, saddlestitched or perfect bound products:
8-1/2 x 11 (traditional signature size)
5-1/2 x 8-1/2 (digest size)
17 x 22 (map style, folds to 8-1/2 x 11)
8 x 9
4 x 9
4 x 6
3-1/2 x 7 (billing insert size)
Featured Equipment
Harris M-110B Heat Set Web with in-line pattern perfing, folding and sheeting capabilities.
RGS computer registration controls and computerized make-ready console.
RGS computer registration controls and computerized makeready console for fast makeready times.
Also Available: