"The activist is not the man who says the river is dirty. The activist is the man who cleans up the river."
Less Impact On The Environment
With Interprint, you can be confident your printing will have a lesser impact on the environment from start to finish. While ink companies and paper mills have stepped up their efforts to offer green products, the reality is, printing firms do not make the paper or ink we use. Our pledge to you … printing that is made from renewable resources with low environmental impact, SOY based printing inks, certified paper, and our ongoing partnerships with leading environmental organizations to ensure conformance to green practices.
Chain Of Custody Certification
We are chain of custody Tri-Certified to the Sustainable Forestry Initiative (SFI®), the Forest Stewardship Council™ (FSC®), and the Programme for the Endorsement of Forest Certification (PEFC®) programs.

What Is Chain Of Custody
Chain Of Custody provides a credible link between responsible forest management and consumption. Once a forest is certified it is important to be able to trace the products that come from it throughout the supply chain to ensure that any claims on the origin of the product are credible and verifiable. COc certification is the process and tracking system that allows manufacturers to demonstrate that timber comes from a forest that is responsibly managed. It tracks the flow of certified wood through the supply chain and across borders through each successive stage – including processing, transformation and manufacturing – all the way to the final product.
Why Specify Chain Of Custody Paper
Forests provide us with clean water, fresh air … they also provide food, medicine and important natural resources, such as timber and paper. If managed responsibly, forests and plantations benefit people – both people dependent on forests and the global community at large.
However, in some countries as much as 80% of the timber is harvested illegally, often involving the violation of human rights and destruction of protected forests. A key factor behind the threats faced by natural forests is the perception by many societies that they lack economic value. The extraordinary social and environmental value of forests in comparison to other land uses is often not considered. In other words, forests are often converted to other land uses which lack many of the social and environmental values of forest but promise higher economic returns.
The use of certified products supports and ensures the forests are managed with the highest social and environmental criteria available. Your environmental choice to specify certified paper has a direct and permanent positive impact on the world's forests and the people living from, in and around the forest. Using certified paper and printing the certified logo is an effective way to let businesses recognize your environmental responsible practices.

About The Chain Of Custody Agencies
SFI 
– Sustainable Forestry Initiative – SFI is an independent, charitable organization dedicated to promoting sustainable forest management. They work with conservation groups, local communities …
FSC – Forest Stewardship Council – FSC is an independent, non-governmental, not for profit organization established to promote the responsible management of the world's forests …

PEFC – Programme For The Endorsement Of Forest Certification Schemes – PEFC is an independent, non-profit, non-governmental organization, founded in …

We Print With SOY Ink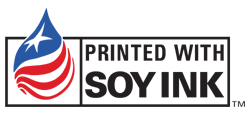 Soybean ink is naturally low in VOCs (volatile organic compounds, chemical compounds that evaporate and react to sunlight) and its usage can reduce emissions causing air pollution. Soybean oil comes from a renewable source: soybeans. Soybean agriculture uses only 0.5 percent of the total energy needed to produce soy ink. Almost half of all soybeans produced in America needs no irrigation. As soybeans are growing they temporarily remove damaging carbon dioxide, a greenhouse gas, from the atmosphere …

Interprint's  Sustainability Policy
Interprint Web Printing is committed to exceed compliance with environmental, health and safety (EHS) requirements throughout our company. We pledge to continue to improve interaction with all EHS matters beyond regulatory compliance, carry out source reduction, including pollution prevention, reuse and recycling. Through our sustainability priorities we will educate and demonstrate the value in making environmentally friendly choices at home and in business, and will share all information on sustainability performance with our employees, customers and the community.

Our Green Business Practices
– TEC Certified Green – The first printing facility in the Southeast United States to hold the TEC accreditation.
– FSC, SFI and PEFC Paper – We are Chain-of-Custody, Tri-Certified by the leading forest protection agencies.
– Unisource respect™ Family Of Green Printers Member.
– Green Business Bureau Certified – GBB offers green certification, on-site training, ongoing support, and in‐person verification of green initiatives.
– Reduced VOC Emissions – We operate Regenerative Thermal Oxidizers on all of our web equipment netting 99+% VOC destruction efficiencies. Recognized as one of the best VOC ratings in the industry.
– SOY based Ink used on all presses.
– Recycle – All paper, plastics and aluminum used during the manufacturing process.
Green Business Certified

Green Business Bureau – The GBB offers a unique, tailored practice of green initiatives based on an assessment of each businesses green involvement. Through exclusive partnerships, Eco‐Consultants provided by the GBB offers certification with on-site training, ongoing support for the certification process, and in‐person verification of green initiatives, which is a key factor for the strength of the GBB program.  Working alongside environmental experts, the GBB team conducted extensive research to design programs of initiatives specifically targeted to yield the highest environmenttal impact. The goal is to maximize the benefits for businesses and for the environment. From a financial and productivity standpoint, it makes sense for businesses to follow a strategic path toward eco‐efficiency. The GBB's program of green initiatives is constantly evolving and we encourage other business to participate, and become part of an ongoing green initiative to protect our environment.

Interprint Recognized In Unisource  Respect Program

Interprint Web Printing is happy to announce their inclusion in the Unisource respect™ Printers' Program. The respect™ program recognizes printers who commit to sustainable printing practices, and hold Chain-of-Custody certifications. Respect™ promotes the use of renewable energy & utilization of manufacturing programs to safeguard resources. Papers with Recycled content, with a minimum of 30% post-consumer recovered fiber, certified by the manufacturing mill and meeting the EPA-recommended guidelines are included in the respect™ product line up. Unisource, and the respect™ program promotes reforestation, Chain-of-Custody certified papers, and are committed to providing environmentally-friendly papers, with "green" attributes. Interprint is privileged to be recognized as part of the respect™ family of printers.

Total Energy Concepts Accreditation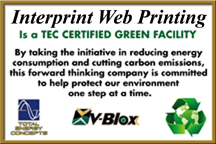 Interprint is honored to be the first printer in the Southeast United States to hold the Total Energy Concepts (TEC) and V-Blox Certified Green accreditation. Total Energy Concepts (TEC) and V-Blox have spent the last few years establishing their Certified Green Program for business who wish to reduce energy consumption, and help save the environment through the use of V-Blox power factor correction and voltage optimization.
The Certified Green Program recognizes companies that have made the substantial investment to lower their carbon footprint by optimizing their electrical system and reduce energy consumption with a custom engineered V-Blox Energy Optimization System. There are many benefits of the TEC and V-Blox Certified Green Program including operational, societal and government recognition. Operational benefits include reduced energy consumption, a lower carbon footprint, reduced maintenance costs & downtime, plus, increased equipment life. The Florida Department of Environmental Protection (DEP) recognizes TEC and V-Blox Certified Green Program as an important component in Green practices to conserve energy, reduce water consumption, protect air quality with reduced waste.

Made In The USA
Made in USA or Buy American might sound like nothing more than a slogan to sell products made in the USA, but the truth is that there are many reasons to buy American made manufactured goods.
Much of the antiquated equipment from American printing firms end up in manufacturing plants outside our market after it's retired from production. Often, the overall product quality and/or delivery times from overseas factories is noticeably less compared to products manufactured right here in America. Most consumers never have the opportunity to tour the facilities of printing plants outside the USA before sending print manufacturing out of the country. Consequently, there can be a disappointment once the project arrives. Additionally, many foreign labor standards allow unsafe worker conditions and do not conform to the environmentally sound practices of the USA, and such organizations as SFI, FSC and PEFC. Our state-of-the-art production facilities are certified GREEN and inspected regularly to ensure on-going compliance, which provides safe and environmentally friendly conditions that benefit workers and customers, while complying to high quality standards such as G7 Master certification and SWOP.
When we buy American, we support not only American manufacturers but also American workers, safe working conditions, and fair labor laws, while keeping the American economy growing right here at home! We are extremely proud of the cleanliness, quality and safe manufacturing practices established in all of our production facilities, and welcome the opportunity to have you in for a tour. Please contact your Interprint Representative today to schedule tour dates and times.